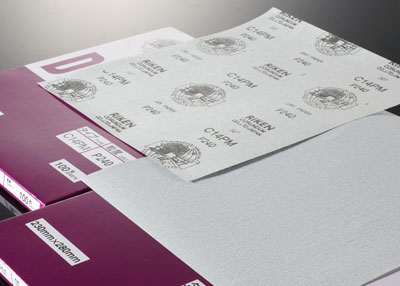 RIKEN RMC C14PM is a general-purpose abrasive stearated sandpaper constructed on an A-weight paper backing and features an anti-loading coating. It adopts a premium silicon carbide that creates a smoother finish than aluminum oxide or garnet abrasive products on painted wood substrates. Its resin band construction provides superior grain retention while the load resistant coating provides excellent anti-loading characteristics. The light A-weight backing provides conformability over contours and into crevasses and corners.
Get the Best Grit Sandpaper for Metal from Riken Abrasives
Silicon carbide abrasive paper and lightweight paper backing make C14PM an ideal product for sanding applications such as Primer, lacquer, sealer sanding, and solid surface finishing in furniture industries and IT industry. We supply a wide range of different grits of C14PM abrasive sandpaper. If you need to find the best grit for sanding metal for your own project.