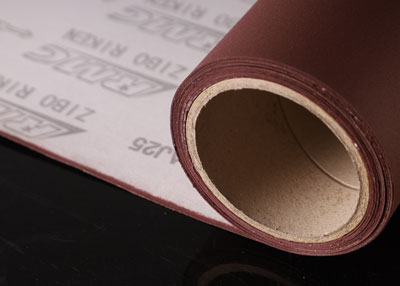 RIKEN RMC Jwt cloth AJ25, the Jwt poly-cotton cloth with the calcined aluminum oxide, is flexible, high wear-resistant and with high coating density. Its backing has anti-slip treatment with high strength. The work surface of the abrasive cloth is very fine. Its excellent flexibility and strength are suitable for belt making.
Application of AJ25 Emery Cloth

RIKEN RMC Jwt cloth AJ25 is mainly used in stainless steel, surgical instrument, carbon steel, hardwood, furniture, and irregular surfaces and so on. Our products include 320 grit, 600 grit, and 800 grit emery cloth. We provide different grits choice of emery cloth. 320 grit emery cloth is one of the popular ones.
RIKEN RMC Jwt cloth AJ25 can be converting into a roll and narrow & semi-wide belt with high efficiency grinding and polishing especially better surface finishing.