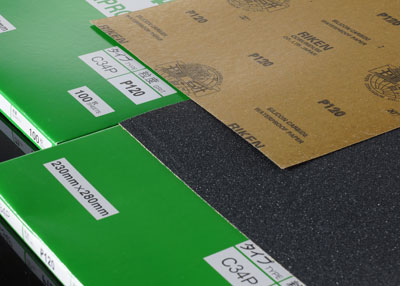 Riken RMC C34P silicon carbide wet dry sandpaper could be applied to paints, primary coat and surface coat of the automobile industries.
Riken RMC C34P Wet And Dry Abrasive Paper
Riken RMC C34P 1000 grit wet sandpaper is backed with a durable silicon carbide waterproof abrasive paper backing is a kind of wet and dry sandpaper, which supports wet and dry applications. The backing of wet and dry abrasive paper is preferable for lighter applications such as finishing and paint prep. At the same time, many such applications produce a significant amount of dust, clogging the abrasive points and creating an inferior work environment. These effects can be minimized by sanding with water to rinse dust away. We provide a lot of choices of different grit sizes, including 220 grit silicon carbide sandpaper, 320 grit silicon carbide sandpaper, 400 grit silicon carbide sandpaper, etc.
A lot of tests testify that Riken RMC C34P wet or dry sandpaper can also be used for sanding and finishing of plastics relative products, leather polishing, mechanical components polishing, furniture (including wood and lacquer) sanding, precision instrument polishing, and hardware sanding.
We are a reliable abrasive paper manufacturer from China. We provide high-quality products. Contact us through rm3@rikenmt.com today!