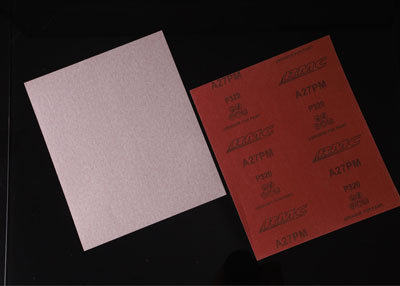 RIKEN RMC AP27M is a stearated paper for dry sanding. Different grits of sandpaper are useful for refinishing wood or furniture. We supply a wide range of grits of sandpaper for painted wood.
Advantages of AP27M Sandpaper for Wood
This sandpaper for finishing wood cuts faster, runs cooler, resists loading better, and lasts longer to help maximize productivity. Premium heat-treated grain makes sure a faster cut rate and extended life. Premium B-weight latex reinforced paper backing guarantees improved performance and more flexibility. The superior bond system optimizes grain adhesion and extends cut life. Stearate anti-clogging coating improves load resistance and extends cut life.
A sharp, heat-treated aluminum oxide abrasive coupled with an anti-loading agent, bonded to a tough, tear-resistant latex paper backing. The result? A high-quality, high-performance long-lasting sandpaper that produces a quick, cool cut without loading.