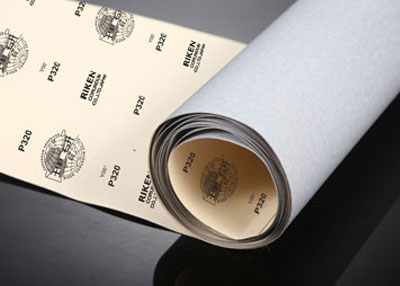 Riken RMC AP82M adopts the special backing paper with high wear-resistant. This woodworking sandpaper rolls could be converted into width belt and roll. Taking special grain and high strength resin adhesive, the product has a long sanding life. Adhesive sandpaper rolls are used in sanding furniture, wood floor, wood, and paints High-quality EWT backing paper, high tough and flexible, can be converted to different size rolls, different size belt, and Velcro sandpaper roll. We also have self adhesive sandpaper rolls, hook and loop sandpaper roll, and so on.

Choose Riken Abrasives for Woodworking Sandpaper Rolls
Riken Abrasives works to supply high-quality woodworking sandpaper rolls to customers. We use special treated FEPA standard Aluminum Oxide abrasive grain. Our products has higher performance and longer grinding life, working out excellent polishing surface. Riken RMC AP82M with its excellent cutting action of the Aluminum Oxide grain enables an efficient sanding operation. The antistatic paper backing reduces clogging problems and improves the lifetime of the product. It also contributes to cleaner surfaces when you are sanding wood. It's one of the most popular woodworking sandpaper rolls, among which the 320 grit sandpaper roll is sold very well.
If you are looking for a reliable sanding rolls supplier, Riken Abrasives can offer you best choice!