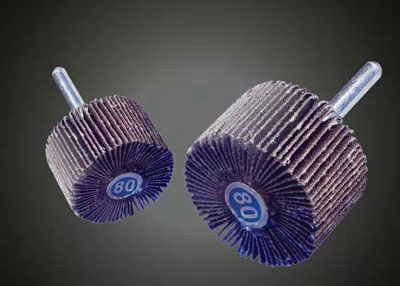 Portable flap wheels were made by bonding radial flaps of abrasive into a hub fitted with a spindle shank. These were intended for use with electric drills and were limited to a maximum speed of around 1,000 rpm.
With developments in abrasive coating, the sheet material could withstand greater forces and speeds. This allowed the production of flap wheels for use with high-speed angle grinders.[note 1] These disks were different in the format: flatter, like the original rigid angle grinder disks, and with the flaps arranged in a densely overlapped layout rather than radial. The extra lifetime this gave to the disk allowed their use for stock removal and metal shaping, not just finishing and polishing.
The flexibility of a flap wheel is an advantage for smoothing curved work and avoids the production of facets, as was a problem for rigid disks. This was taken further advantage of with the development of foam-bonded flap wheels. These use fewer flaps, spaced apart by a flexible foam spacer. This makes them even more flexible, thus more suited for producing a smooth finish to curved surfaces.

Dia X thickness X Bore

Max speed

Grain

Grit size

(25-80) X (5-25) X 6mm

80m/s

A/C

P40-P400